Print
I generate creative concepts and transform them into exciting, appealing and functional visual marketing tools. My print work demonstrates my love of detail and desire to creatively solve visual challenges.
100 Grand Slam Challenge Logo
Logo for a college sports fundraising campaign.
Game Day Tailgate Flyer
Mock-up for college game day tailgate flyer to invite staff, students, alumni and family to meet and mingle pre-game.
Liberty Ridge Company Logo
Logo design for a new indoor shooting range/outdoor adventure company.
"Love Where You Live" Logo
Promotional logo design for "Love Where You Live," a program of the Keep Opelika Beautiful non-profit organization.
Magazine Redesign
Redesign of a veterinary college flagship magazine. Included in this update was a new and illustrated title logo, a newly designed masthead/table of contents page, and revamped, colorful interiors throughout. Intent was to increase visual appeal to attract a younger readership to the established audience of this highly informative, scholarly medical journal.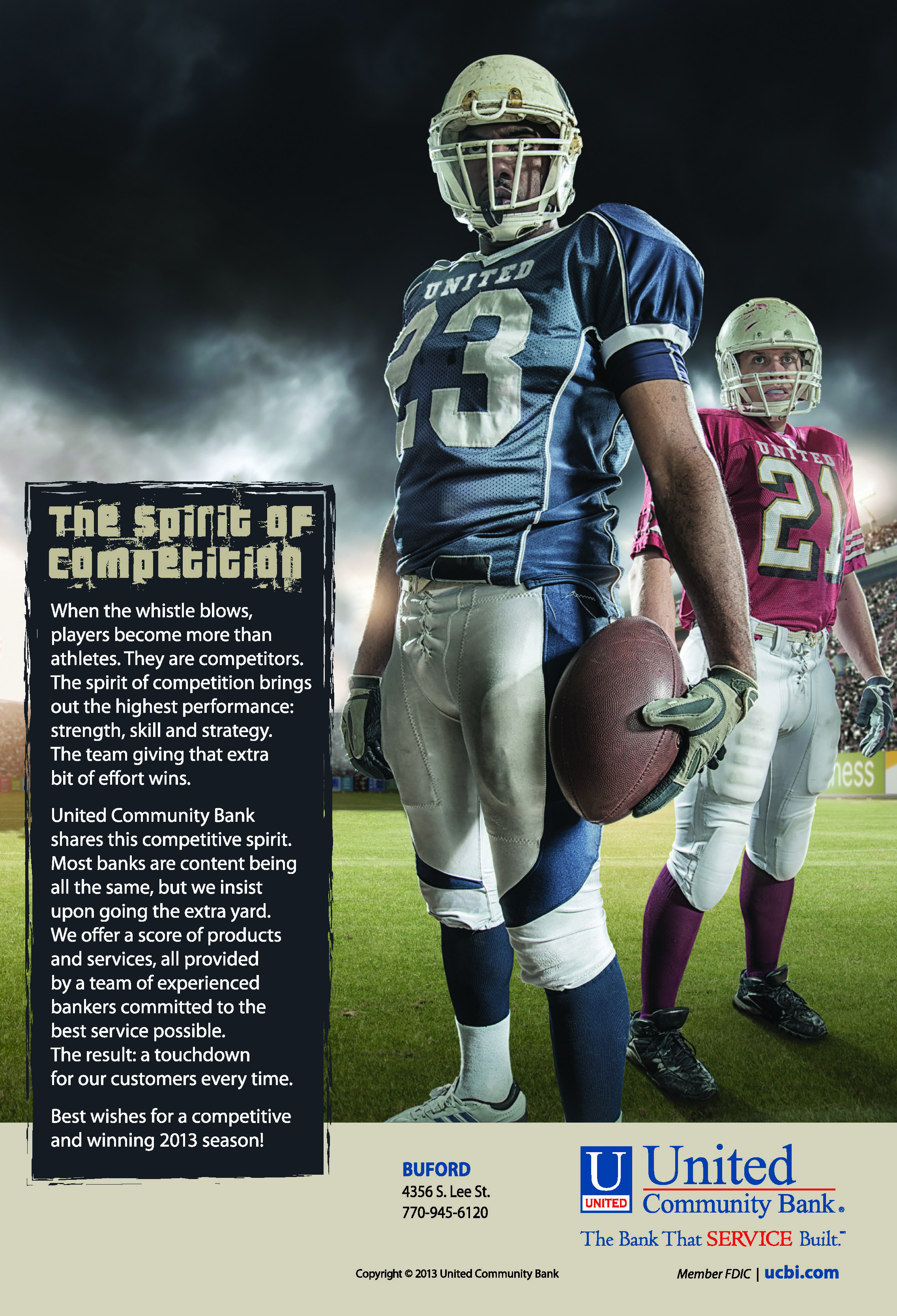 The Spirit of Competition Ad
Football advertisement created to appear both in color and black and white in football programs and newspapers throughout the bank's footprint. Photoshop illustration work applied to stock photography. Ad allowed space for bank locations text to change per market.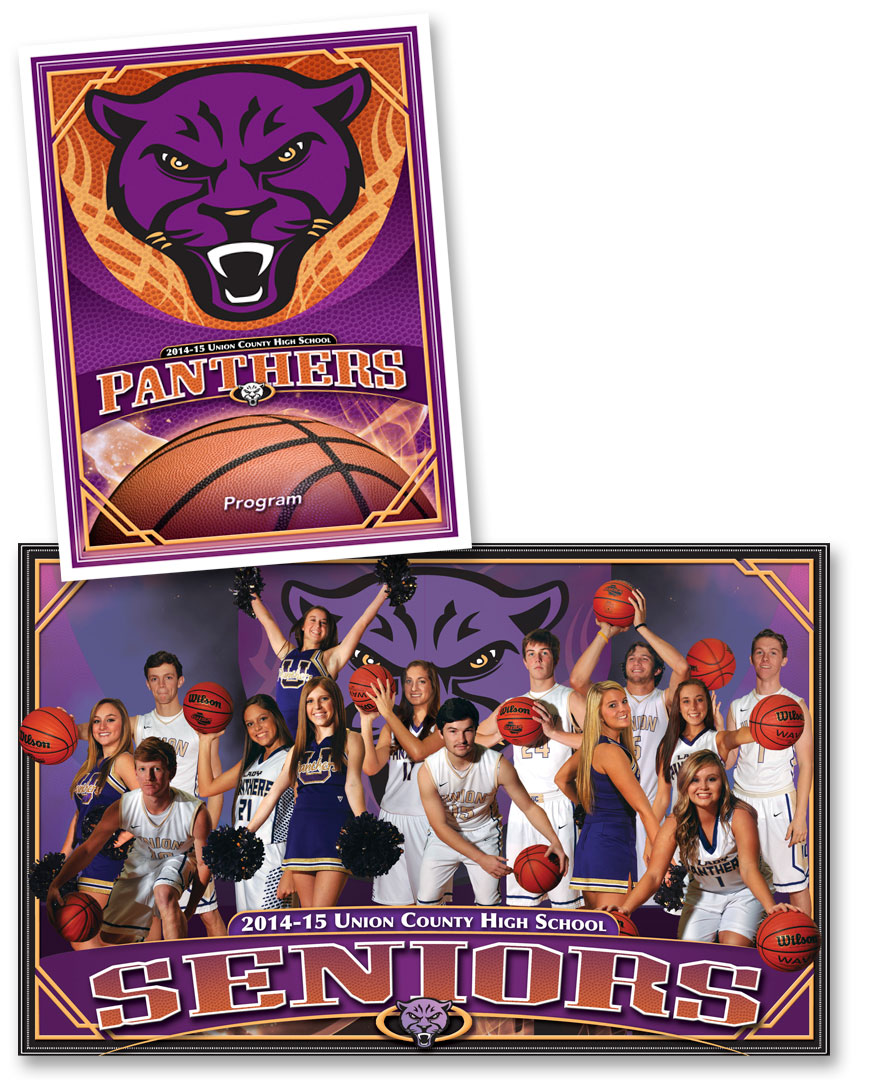 High School Basketball Program
(Cover and center spread shown)
Previous programs were produced by the local newspaper in black and white. I was given the opportunity to design a full-color program. I wanted to make the players and cheerleaders appear as big league superstars by making their individual photos look like trading cards. I also wanted to provide an exciting advertising outlet for local businesses. The program sold twice as many ads as the previous year, increasing income to support the school's basketball program. I designed most of the 200+ ads. Following my suggestion, the client allowed the center spread to feature the basketball senior players and cheerleaders. We also printed the center spread as an additional separate poster to use as a giveaway item.
Royal Ambassador Resource Kit
Designed the look of this kit, including contents. Constructed and painted the wooden race cars, and art-directed the photography. Illustrated and composed the cover art.
"War of the World" Theme Cover of ec-essential connection Magazine
Cover of ec-essential connection magazine for youth. This issue's theme, "War of the Worlds," focused on conflicts Christian teens face in a secular world. Secured models, clothing and equipment properties, as well as art-directed the photography. Illustrated, retouched, and composited the cover artwork. Also designed the magazine's interior.
Georgia Apple Festival Program Ad
Bank advertisement placed in the Georgia Apple Festival Program. To bring potential customers back to the ad over and over, we provided a map displaying locations of local apple barns.
Scottish Festival and Highland Games Ad
The annual Scottish Festival and Highland Games draws thousands of visitors to Blairsville, Georgia, each June. This full-page ad to promote the bank to potential new customers and welcomes tourists to the area to celebrate the festival.
Mock-Up for 5K/10K Run
Flyer and T-Shirt mock-up design for a 5K/10K Run. Since the race takes place through a forest, scouting and adventure came to mind, so I designed a fabric patch look for the race theme. The patch design, seen bottom left, is a textured illustration utilizing Adobe Illustrator and Photoshop.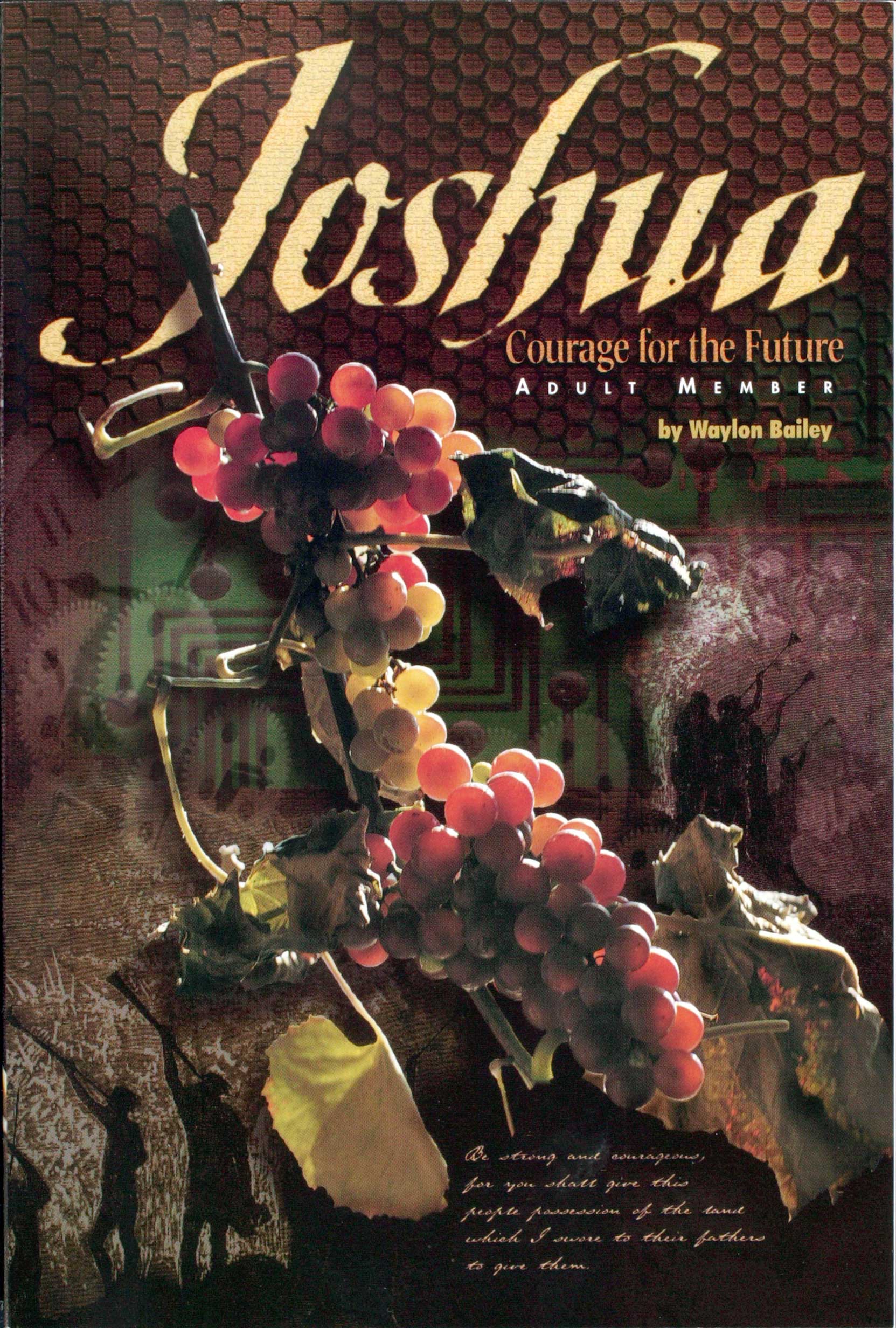 Joshua Book and Kit Design
Art-directed photography art direction and composed cover utilizing photo, typography and illustration. Designed student and teacher books, as well as teaching kit and contents.
The Bankers Hour Show Program
The Bankers Hour variety show raised money for local charities throughout the bank's footprint. Developed the concept and designed the look of all promotional materials, including newspaper and magazine ads, posters, and web banners, as well as art-directed the photography. Also designed the stage set, stage properties, and show programs. This is the program cover for the 2009 show.
Footsketball Ad
Bank branding advertisement for local football and basketball programs throughout bank's footprint. Concept development, design and photo illustration work.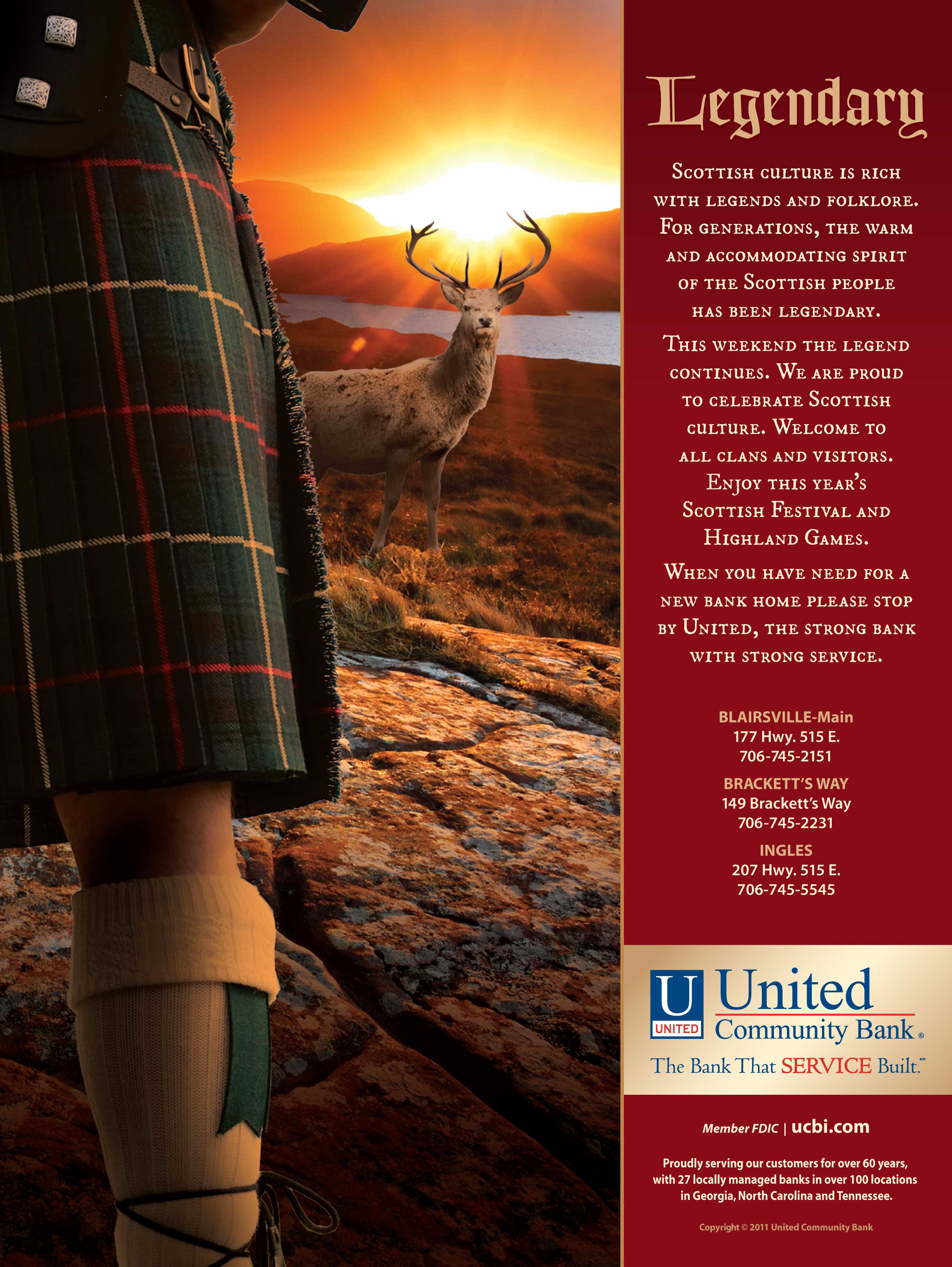 Scottish Festival and Highland Games Ad
The Scottish Festival and Highland Games is a big tourism draw to the North Georgia Mountains each year. Composed the photo and designed this advertisement to welcome visitors to the festival and promote the bank to potential new customers.
Sesquicentennial Ad
Two-page center spread bank advertisement for the White County, GA, sesquicentennial commemorative book.
The Bankers Hour Show Program -Diner Theme
Front and Back cover of The Bankers Hour charity variety show program. Developed the show's theme and carried it through all aspects of the production. Designed the stage sets, all promotional materials, including newspaper and web ads, and the show's diner menu-themed program. Created in Adobe Illustrator, the program cover includes an illustrated paper clip, which carries over to the inside front cover and appears to hold the "Today's Specials" listing.
Partnership Ad
Branding advertisement for financial institution. Bank office locations were changed for each market.
"In The Line Of Fire" Theme ec-essential connection Magazine Cover
Cover of ec-essential connection youth magazine. The theme for this issue was "In The Line of Fire" and focused on moral and social issues teens face each day. Created the typographic treatment for the issue theme. Secured equipment properties for the models, art-directed the photography, and composed in Photoshop. Also designed magazine's interior. The explosion was from stock photography... no teens were roasted in the making of this magazine cover.
Music Festival Ad
Bank magazine and program advertisement for the Savannah Music Festival. Design and photo illustration work. This artwork was also used as a poster.